The Virgil World Tour made its first international stop in Sofia! The city has been called "a hidden gem" by VentureBeat, and the "digital capital of the new markets" and one of the top 10 cities in the world to launch a startup by Forbes. At Webit Festival, there were almost 10,000 developers, founders, policy leaders and investors in attendance, and the Virgil Security team was excited to meet hundreds of them at our booth in the Startup Expo. Most attendees were from Europe and therefore very interested in end-to-end encryption due to the heightened interest in security and user privacy compared to the United States. Of course compliance with GDPR, HIPAA and other regulations through end-to-end encryption was a popular topic as well.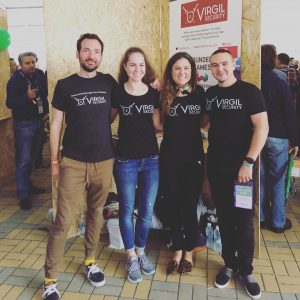 Our free private app security clinics were again a hit with developers, CTOs and product managers. As they say, "done is better than perfect," which is why we focus on practical solutions that won't sink your whole product build. But no need to travel to Sofia to sit down with us! We're doing app security clinics online via Zoom. Reserve your time slot here.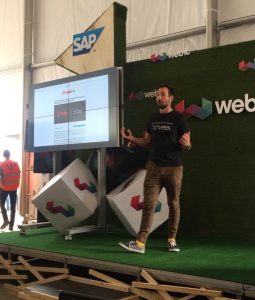 The Webit Festival crowd loved our VP of Developer Platform David Szabo's pitch on the Founders Games stage. Even though we didn't fly home with the grand prize, we're still winners at heart, right?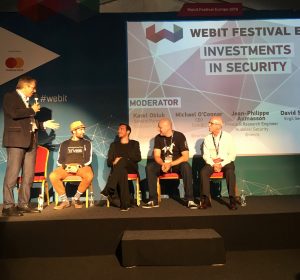 David also joined a rockstar group of security founders and investors for a discussion on the future of cybersecurity investing. Panelists included Karel Obluk with Evolution Equity Partners, Boris Goncharov with AMATAS, Jean-Philippe Aumasson with Kudelski Security and Michael O'Connor with CorkBIC. Highlights on our live Twitter thread here.
The next stops on the Virgil World Tour bring the team back to the US for a Northern Virginia event with Deloitte and then to Las Vegas for BlackHat and DEFCON.
Wondering what the Virgil World Tour is? We're hitting the road to bring security to developer communities around the world. Today it's now possible to add security features to your app that used to require years of schooling. The code exists. Your app needs it. Stop delaying the inevitable and secure your tech now. Join us at a tour stop - online or offline. Details at https://worldtour.virgilsecurity.com/.
Want to learn more about the Virgil Security products? Join our Slack community to start a conversation.
---
Virgil Security, Inc. is a stack of security libraries and all the necessary infrastructure to enable seamless, end-to-end encryption for any application, platform or device.
We guide software developers into the forthcoming security world in which everything will be encrypted (and passwords will be eliminated). In this world, the days of developers having to raise millions of dollars to build secure chat, secure email, secure file-sharing, or a secure anything have come to an end. Now developers can instead focus on building features that give them a competitive market advantage while end-users can enjoy the privacy and security they increasingly demand.