Last week the Virgil World Tour brought the Virgil Security team to DeveloperWeek NYC, the world's largest conference series for developers and developer executives, in Brooklyn blocks from startups like Kickstarter.
On this Virgil World Tour stop, we got back to basics and hosted a series of educational programming about end-to-end encryption and key management. In order to fully take advantage of our tech, developers have told us that they want to understand the core concepts better. We're working on creating new graphics and more educational material for Virgil developers. Any topics or concepts you'd like us to cover? Let us know on Slack.
Main Stage Talk:
David was the star of DeveloperWeek! Before we dove into the mechanics of how end-to-end encryption works, David took the stage to show why it matters and how it's used. A chat app is the most elementary and well-known use case, but there's so much more that our customers are end-to-end encrypting, such as customer support chat, healthcare records, financial transactions, dating app profiles, and more. Almost every application across any platform can have Apple-grade security by implementing end-to-end encryption. Stay tuned for the video!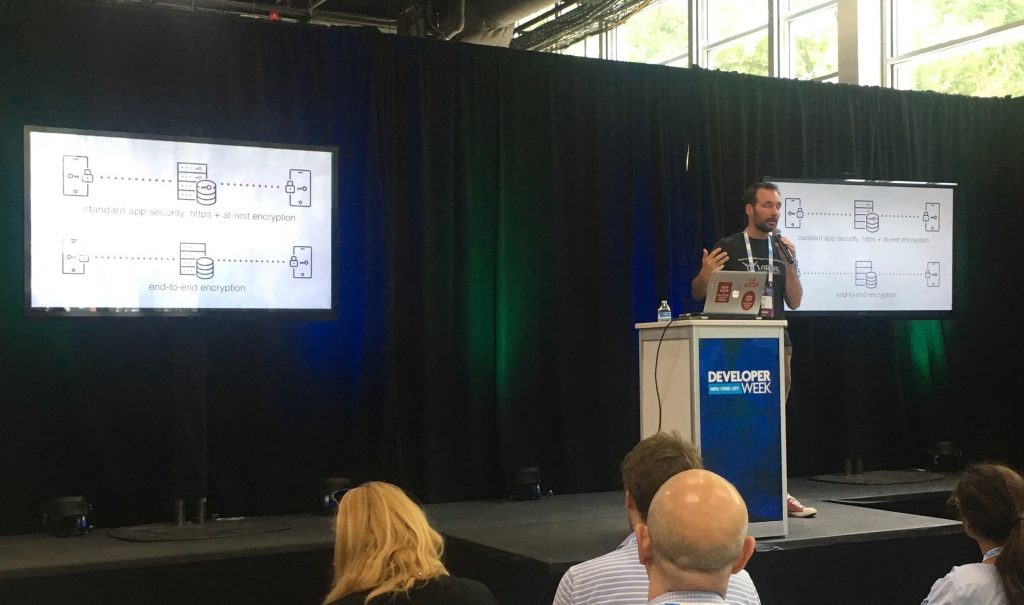 Demo Stage:
What, what a crowd! David's Encryption 101 presentation had the highest attendance of the whole conference. No one can say that developers don't care about security! Catch the play by play on our live Twitter thread here.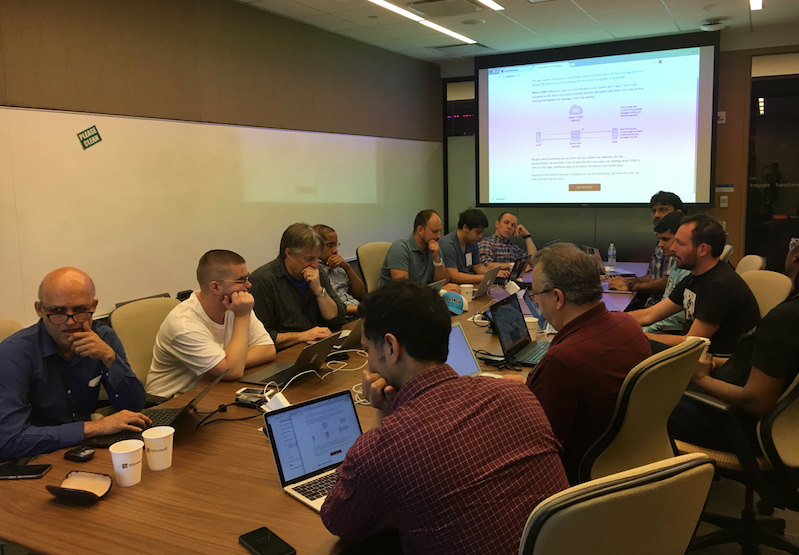 Workshop:
We capped off the week by leading a deep-dive workshop on implementing Virgil's end-to-end encryption SDKs at Microsoft's towering Times Square innovation center. The room was full of developer wide ranging in skill and product types. The group spent two hours running sample code, whiteboarding concepts and discussing use cases.
Clinics:
Often, developers know they can and should implement end-to-end encryption, but they just need to sit and talk it through with an expert. So at DeveloperWeek, we held 1:1 private app security "clinics" to quickly discuss and diagnose remedies for product security. It's a chance to answer questions like "How do I generate keys for new users?" and "Do I have to encrypt all the data or just parts of it?" related to a particular tech stack and business case. We'll do a clinic for you too! Sign up for a time here.
The next stop on the Virgil World Tour: Webit Festival in Sofia, Bulgaria.
Want to learn more about the Virgil Security products? Join our Slack community to start a conversation.
Virgil Security, Inc. is a stack of security libraries and all the necessary infrastructure to enable seamless, end-to-end encryption for any application, platform or device.
We guide software developers into the forthcoming security world in which everything will be encrypted (and passwords will be eliminated). In this world, the days of developers having to raise millions of dollars to build secure chat, secure email, secure file-sharing, or a secure anything have come to an end. Now developers can instead focus on building features that give them a competitive market advantage while end-users can enjoy the privacy and security they increasingly demand.